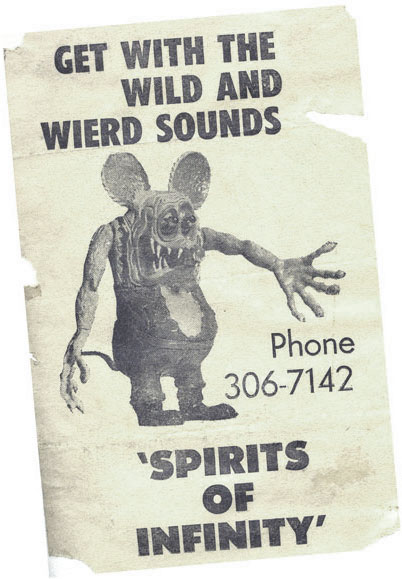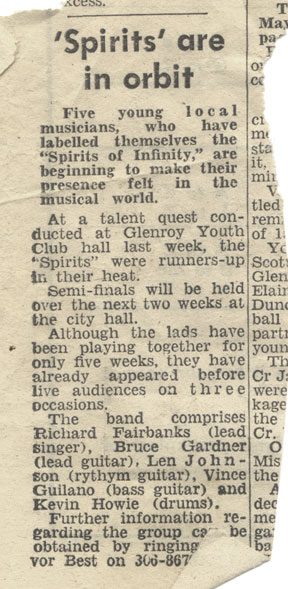 "SPIRITS OF INFINITY" around 1966... first band - We were probably terrible, well we must have been when I think back! The group scored a few bookings as we tried to figure out how it worked...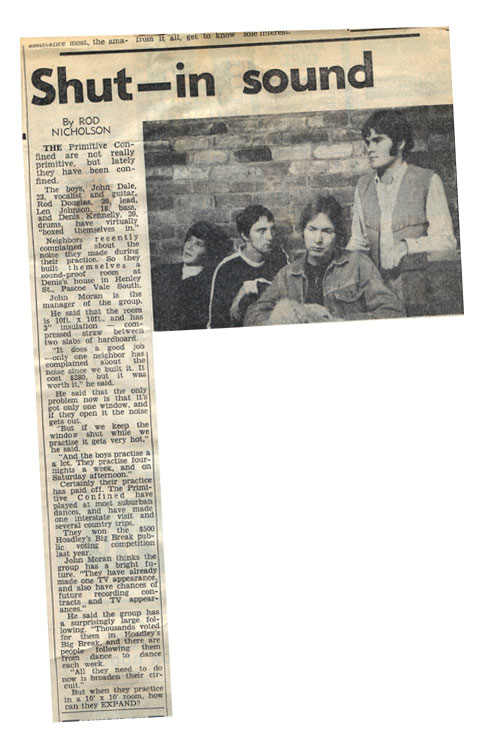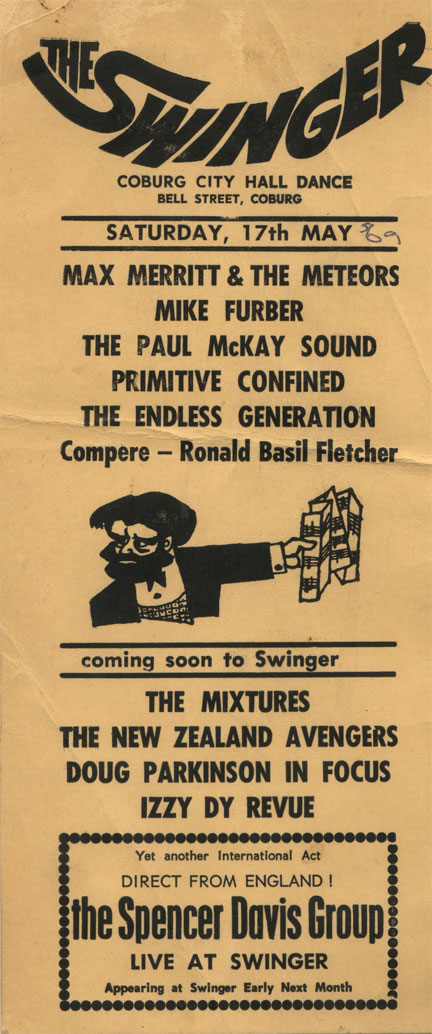 PRIMITIVE CONFINED 1966 -1971- A semi-professional band that had been playing for a few years prior to my recruitment.
The group did quite well playing a couple of jobs per week for several years supporting the big names or performing the entire event...
PRIMITIVE CONFINED 1969-1971: ROD DOUGLAS: GUITAR & VOCALS, JOHN DALE: VOCALS & GUITAR, LJ: BASS , DENNIS KENEALLY: DRUMS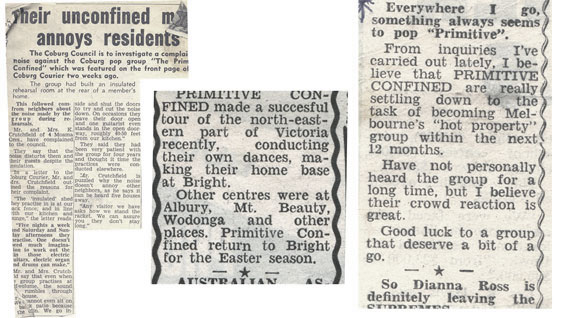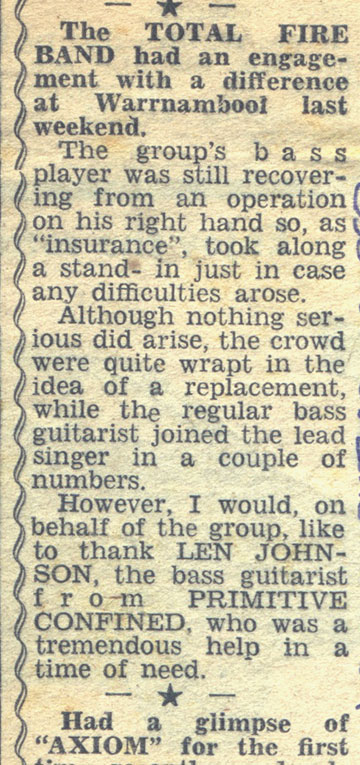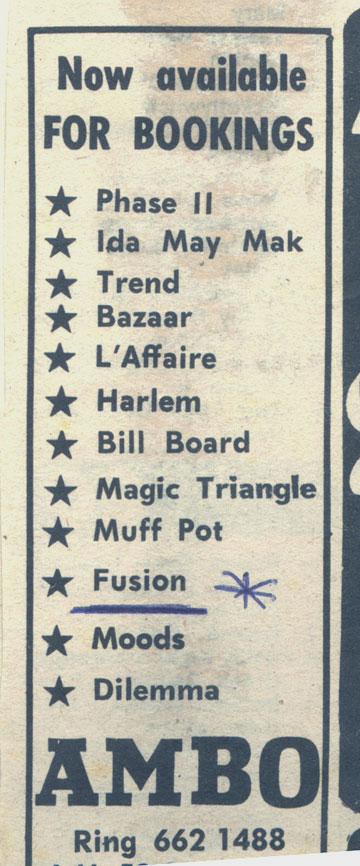 "FUSION" 1971: a development of "Primitive Confined" with two lead singers Sue and John. The group worked weekends for a year or so..
.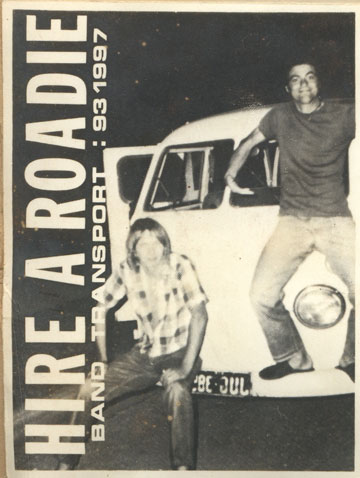 Just an idea (not a good one...) for my first Kombi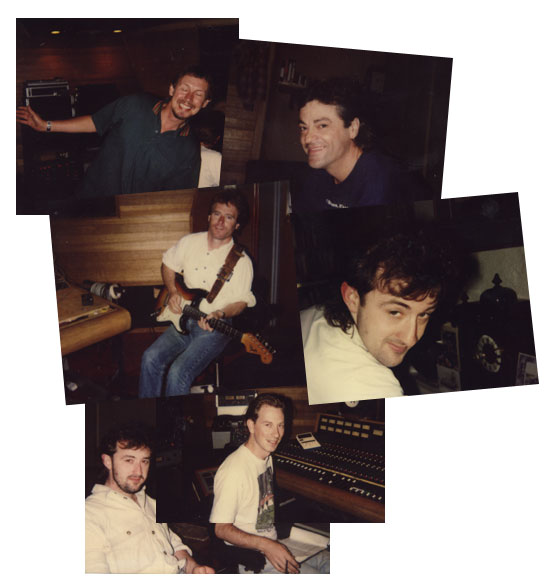 "THE EXILES" IN THE STUDIO - THE POWER PLANT, CARLTON 1991
John Fraser: Vocals and rhythm guitar, Peter Starkey: Lead Guitar, LJ: Bass, Louie Black: drums
.... a few gigs and a demo of some 12 terrific songs written by John Fraser.
that was then, this is now...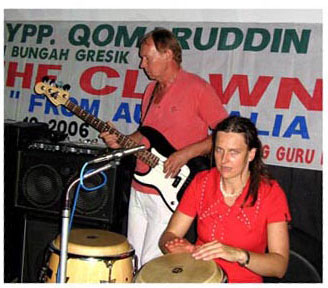 "WBP" AT THEATRE ROYAL CASTLEMAINE 2009
Photos: Andy Rigby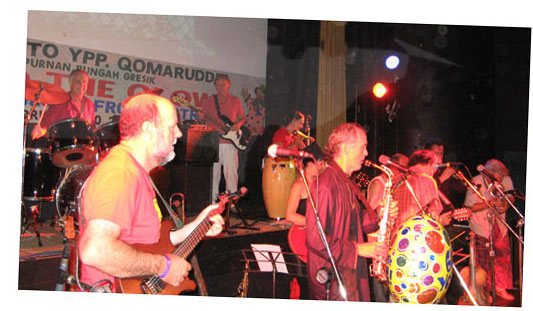 "WBP" AT THEATRE ROYAL CASTLEMAINE 2009 Geoff, Mathew, Len, Team - Saul wasn't there just then...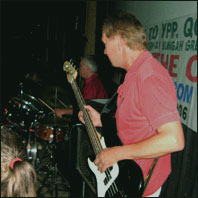 A great (lefty) P Bass...
.

Malmsbury Streetscape by LJ
MERCHANTS OF MALMSBURY CAFE (Mk1)
Mk1 September 2002 - July 2011. Reopened 2013 (as Mk2) and still open!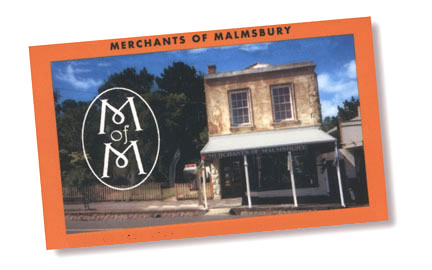 There once was a little cafe in Malmsbury (it has reopened!). It made lots of coffees and most people had a good time. It was a lot of work and paid its way but really it tried to be a bit beyond all that... Whether it succeeded or not depends upon your point of view and experience... it was what it was never tried to pretend it was other than what you found when you walked through the door from day one to day 2000 approx 9 years later...Thanks to all for making Merchants of Malmsbury the place that it was and being a part of it... 9 years of everything! Time to do other things. July 2011, customers to the end, the way to go - an unscripted ending! Best wishes to all who came...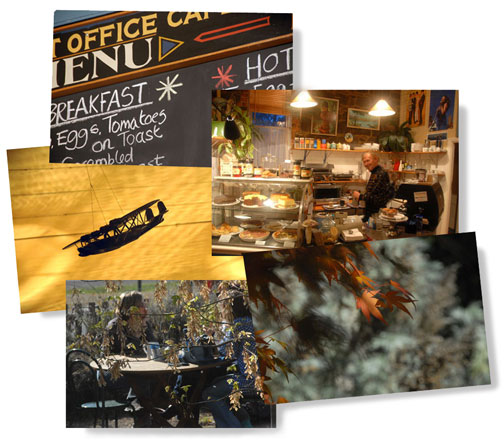 Pics Nick and Chris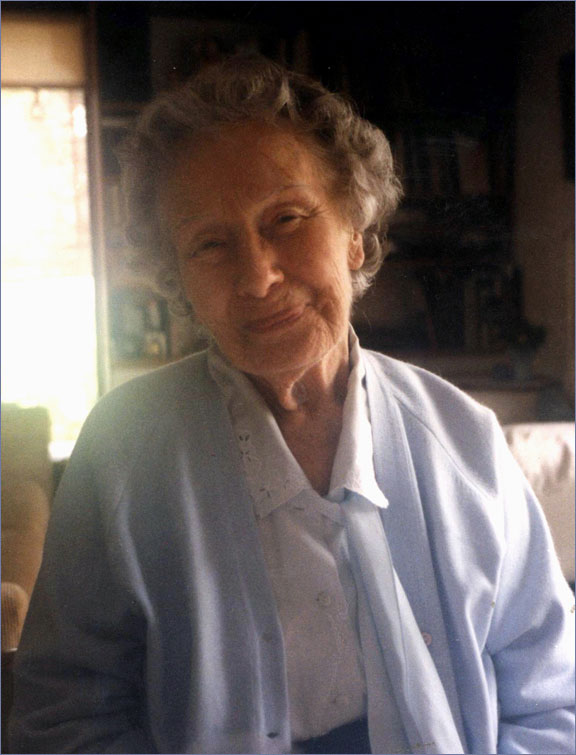 May 2011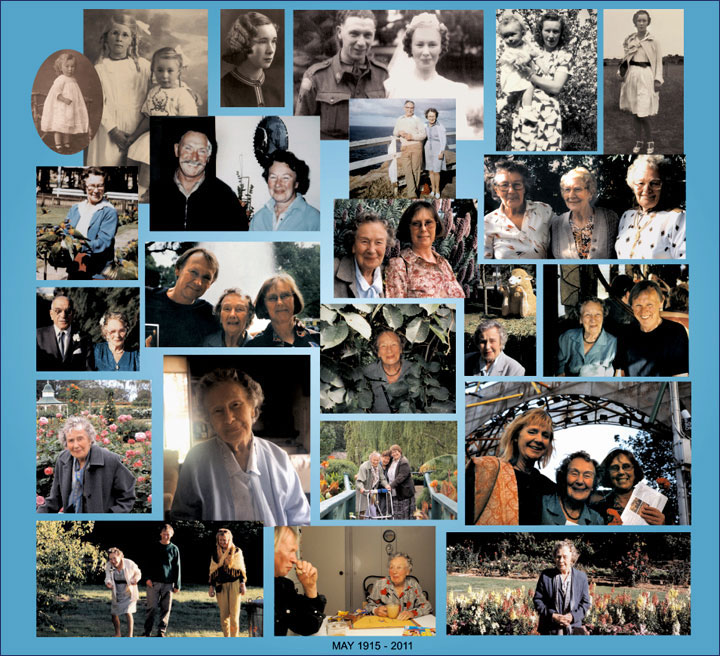 May 1915 - 2011
.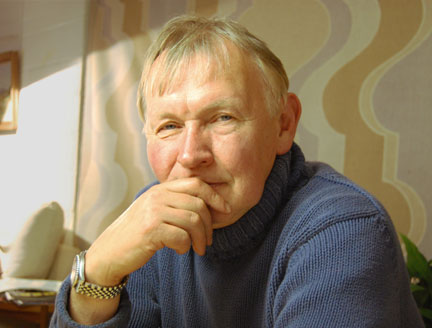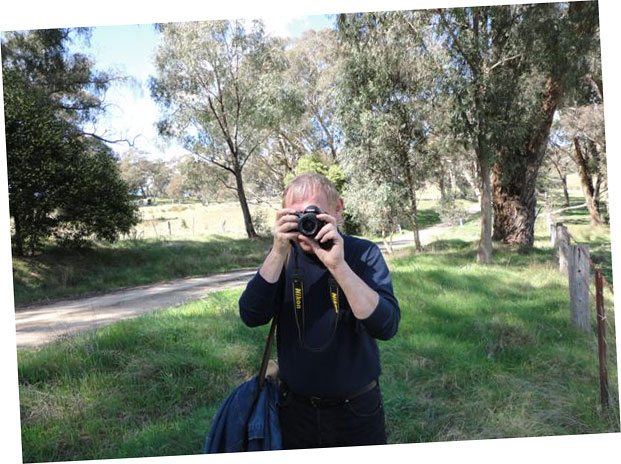 on the Malmsbury - Taradale walk 2011 (Pic M.T.)
.
MERCHANTS OF MALMSBURY (Mk2)
(Re)Opened August 2013 to the present!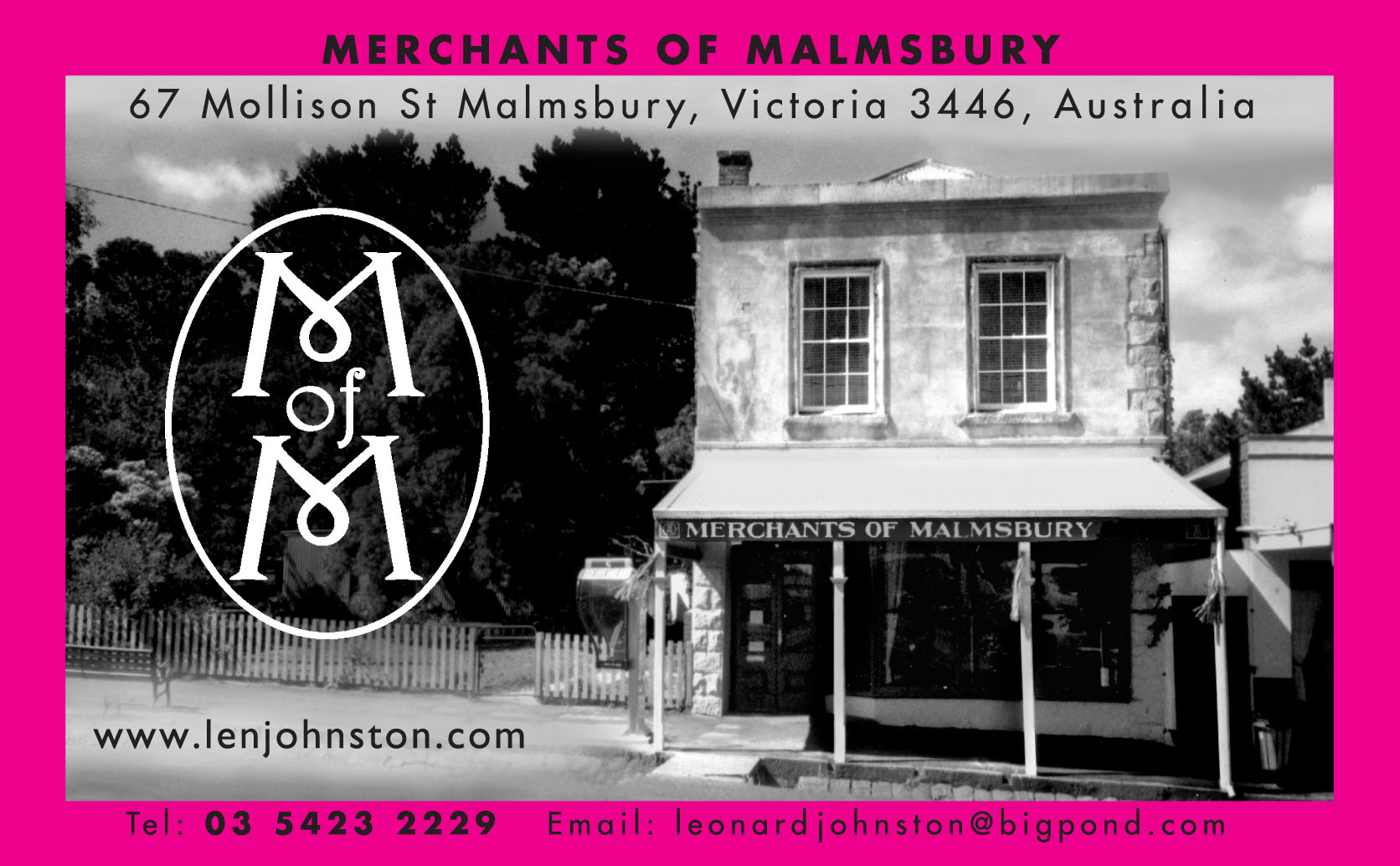 .

A few Photographers, Angels and Visionaries to be grateful for...
Andre Kertesz
Josef Koudelka
Henri Cartier-Bresson
Max Dupain
Luigi Ghirri
Robert Doisneau
Brassai
Edward Weston
Jacques Heni Lartigue
Josef Sudek
Eugene Atget
Bill Brandt
Man Ray
Jan Saudek
Walker Evans
Paul Strand
Sylvia Plachy
Max Pam
Robert Besanko
Christian Vogt
Boubat
Robert Frank
Gabriele Basilico
Mauel Alvarez Bravo
Edward Steichen
Alfred Stieglitz
Alexander Rodtchenko
Cecil Beaton
Peter Dombrovskis
Willy Ronis
Sebastiao Salgado
.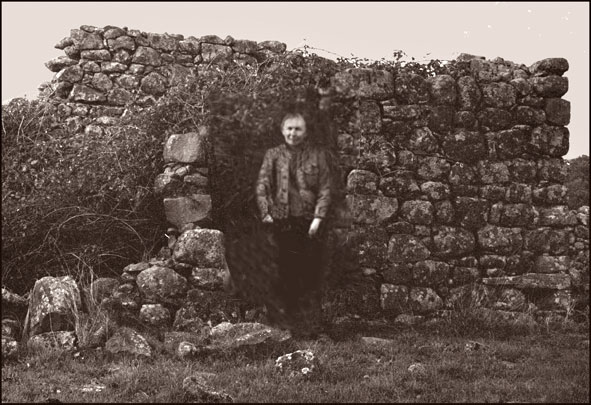 Photography & General Biographic Notes:

1950 - Born Brunswick, Melbourne
1964 - My first photos with the family Kodak Box Brownie
1967 - Begin apprenticeship as a Photo-lithographer in central Melbourne
1969 - Father's rangefinder camera encourages photographic expression
1973 - First overseas travel
1975 - Decide to explore photography as a creative medium
1981 - First published photos
1982 - Establish "S.E.One Photographics" and "Artpics"
1983 - Begin exhibiting
1996 - Switch from traditional Photo-lithography to Digital Publishing

Publications:

1981 - First photographs published Nikon Magazine. U.K.-3 page feature
1982 - Amateur Photographer. U.K. 4 page feature
1983 - Camera Craft. Australia 5 page feature
1984 - British Journal of Photography Yearbook. U.K.
1985 - Camera Craft. Australia 6 page feature "Oxford Photographs"
zzzz,zz - British Journal of Photography Yearbook.
1985+ - Occasional contributions to local publications.

Exhibitions:

1979 - to the present participated in numerous group shows within Victoria
1983 - Visibility Gallery, Carlton. "Objectives"
1984 - Roar Studios, Fitzroy. "Oxford Photographs"
1984 - with Tatjana Rosner's needlepoint and Craig Haire's 1984 sculpture
1986 - City of Mildura Arts Centre. "On the Face of It"
aa,a - City of Hamilton Art Gallery. "On the Face of it "
aa,a - City of Horsham Art Gallery. "Familiarity"
aa,a - Rhumbarella's Gallery, Fitzroy. "Familiarity"
1990 - Ertia Gallery, Port Melbourne. "Len Johnston" "
2006 - Merchants of Malmsbury. "Malmsbury"
2008 - Elsie Gallery, Malmsbury. "A Few Spots in India"
2009 - Elsie Gallery, Malmsbury. "Sikkim - Portait of a Himalayan Jewel" "
2016 - Exhibition announced for Woodbind Gallery, Malmsbury. "The Other Way" Nov/Dec 2016 aa a

Collections:

My Photographs are represented in somewhere between one and two hundred private and
public collections, mostly in Australia and the U.K. Thanks for your support.

Recent Usage :

* Cover CD Photo "Dr Feelgood live at Victoria Hall" (Melbourne page - see Dr.Feelgood")
* CD Middle Spread "Kavisha Mazella - Love & Sorrow"z(Melbourne page "Lovers at Botanic Gardens")

.

Links

Malmsbury Blog

TheRolling Stones in Melbourne 1973

Green Graphics

Josef Sudek

The Small Faces

Abe Books

Atisha Centre

Procol Harum - Beyond the Pale

S.S.Waratah

Steve Winwood

Helen at Unqualified

Mike Bloomfield

Tara Institute

Vali Myers

Kid of Speed

COPYRIGHT LEN JOHNSTON

leonardjohnston@bigpond.com